Yesterday was a serious bummer. Over the weekend I shouted my lungs out until I nearly lost my voice. Such is the life of a hockey fan, I suppose. I woke up on Saturday morning with a terrible sore throat that sort-of eased as the day went on, but never fully. Sunday was about the same. On Monday my throat had gotten mostly better but other symptoms of illness were creeping in: feeling drained, moving in slow motion, starting to get stuffy, etc. I tried sweating it out (2 classes at Title Boxing Club) and drowning it out (My morning breakfast of biscuit and bacon was accompanied by 3 glasses of water, a mug of coffee, a bottle of milk, and a bottle of OJ, all in addition to the 7 or 8 other workday glasses of water I had, the 2 pre-workout shakes and 1 post-workout whey protein shake. I was not going to get sick.
And then on Tuesday morning, I was sick.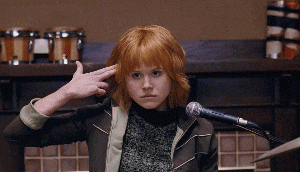 I wasn't bad enough to lay out of work altogether, however, so I did put in my hours from home. This let me get down on some of the positives involved with working remotely: namely wearing your jams all day, blasting heavy metal with no headphones, staying with my dogs all day, and watching kung-fu movies while making the nonlinear world go 'round.
I was able to watch Return to the 36th Chamber…
…and Enter the Dragon…
While the DVD menu for Dragon came back up, I caught a 15 minute power nap and basically woke up nearly-cured. Constantly downing water, wearing jams, watching kung-fu and taking baby naps is apparently the magic medicine. Whatever works.
Anyway – the point of this post is to share the cartoon I made yesterday. Been a while since I made a #cartoonButt cartoon and after going to see the Deadpool movie on Saturday, I was inspired to add him to my universe, whether he likes it or not. A lunch time chat today confirmed I'm not the only one that thinks the phrase "breaking the third wall" is suddenly hip. I have to think it's because Deadpool basically explained the concept during his movie. Superhero movies usually cater to the lowest common denominator, I suppose.
Anyway, welcome, Deadpool, to the #cartoonButt universe! You're in small, but quality, company!